How to use Digital Language Lab?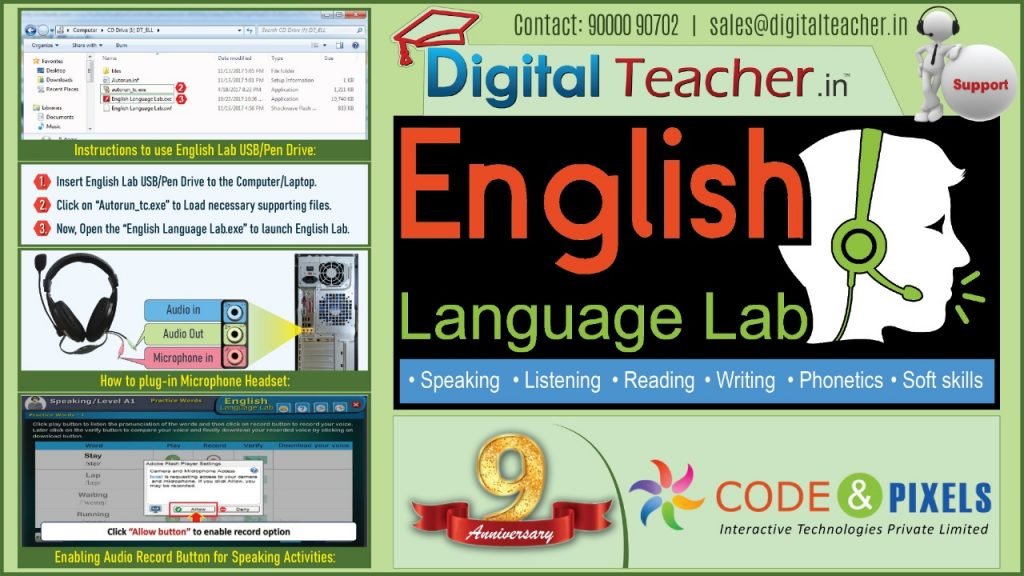 The main purpose of the Language lab is to give free hands to the student so that without any fear and hesitations students should use the lab and improve their English skills.
Digital Language lab is not a "Spoken English software" Speaking English is one of the components of Language lab software. English Language Lab enhances the overall English knowledge of the student.
A teacher who monitored students showed less success than a teacher-less Language lab. Studies proved that when the teacher is monitoring the student closely then the student cannot practice freely. Hence language labs should be explored by students themselves under teacher guidance but not under Teacher Monitoring.
Language labs yield excellent results, only when a student is guided by the teacher but not monitored. Let the students explore the software freely as they like. Remember that, no one taught using smartphones to children and they are good at using the smartphone features far better than many adults. They learn by exploring various options. Similarly, let the students explore the software and learn themselves.
As a teacher, tell them the importance of English in their life and guide them on how to use the Lab, and hand over the software to them.
The teacher's role should be limited to guiding the usage of the software. If the teacher starts monitoring, seeing into students' Screen, listening to what student is speaking, etc., it will increase students' fear of English more.
Digital Teacher Language lab is designed in such a way that anyone can easily explore the software.
NOTE: We strongly recommend NOT to use Screen monitoring software in Labs
Monitoring student computer screen is not a feature of any Language lab. It's an additional software used. Many software are available to monitor the systems in the lab i.e. https://veyon.io/en/
If you really want to Monitor, Veyon is a free and open-source software for monitoring and controlling computers across multiple platforms.
Language Lab Outcomes :
Enhancement of English skills
Practicing English using everyday scenario
Acquisition of vocabulary through integrated learning
Pronunciation practice using phonetics
Gradual up-gradation of English language skills through a structured program
Language skills gradually upgraded from A1 to C2 level (CEFR Levels)
Enhancement of functional English and functional grammar
Extensive listening and speaking practice
Strategic content in a rich audio-visual format
A blended learning program
As per international standards
Caters to the needs of State Boards / CBSE
Train students on soft skills
Blended Methodology :
Digital Language Lab (DLL) or English Language Lab (ELL) should serve as a Blended learning methodology. Language lab must help instructors and students.
As an ILT (Instructor-Led Training), an Instructor interacts with the students in executing the activities whereas in CBT (Computer Based Training students can perform them alone.
It means the teacher should be able to project language lab on the projector screen and explain the concepts to all the students. Whereas speaking has to be practiced by students themselves only.