English / Digital Language Lab Introduction
The main purpose of the Language lab is to give free hands to the student so that without any fear and hesitations students should use the lab and improve their English skills.
Digital Language lab is not a "Spoken English software" Speaking English is one of the components of Language lab software. English Language Lab enhances the overall English knowledge of the student.
A teacher who monitored students showed less success than a teacher-less Language lab. Studies proved that when the teacher is monitoring the student closely then the student cannot practice freely. Hence language labs should be explored by students themselves under teacher guidance but not under Teacher Monitoring.
Language labs yield excellent results, only when a student is

guided

by the teacher but not

monitored

. Let the student explore the software freely as they like. Remember that, no one taught using smartphones to children and they are good at using the smartphone features far better than many adults. They learn by exploring various options. Similarly, let the student explore the software and learn themselves.
As a teacher, tell them the importance of English in their life and guide them on how to use the Lab, and hand over the software to them.
The teacher's role should be limited to guiding the usage of the software. If the teacher starts monitoring, seeing into student's Screen, and listening to what student is speaking, etc, it will increase student's fear for English more.
Digital Teacher Language lab is designed in such a way that anyone can easily explore the software.
NOTE: We strongly recommend NOT to use Screen monitoring software in Labs
Monitoring student computer screen is not a feature of any Language lab. It's an additional software used. Many software are available to monitor the systems in the lab i.e. https://veyon.io/en/
If you really want to Monitor, Veyon is a free and open-source software for monitoring and controlling computers across multiple platforms.
Language Lab outcomes:
Enhancement of English skills
Practicing English using everyday scenario
Acquisition of vocabulary through integrated learning
Pronunciation practice using phonetics
Gradual up-gradation of English language skills through a structured program
Language skills gradually upgraded from A1 to C2 level (CEFR Levels)
Enhancement of functional English and functional grammar
Extensive listening and speaking practice
Strategic content in a rich audio-visual format
A blended learning program
As per international standards
Caters to the needs of State Boards / CBSE
Train students on soft skills
Blended Methodology:
Digital Language Lab (DLL) or English Language Lab (ELL) should serve as a Blended learning methodology. Language lab must help instructors and students.
As an ILT (Instructor-Led Training), an Instructor interacts with the students in executing the activities whereas in CBT (Computer Based Training students can perform them alone.
It means the teacher should be able to project language lab on the projector screen and explain the concepts to all the students. Whereas speaking has to be practiced by students themselves only.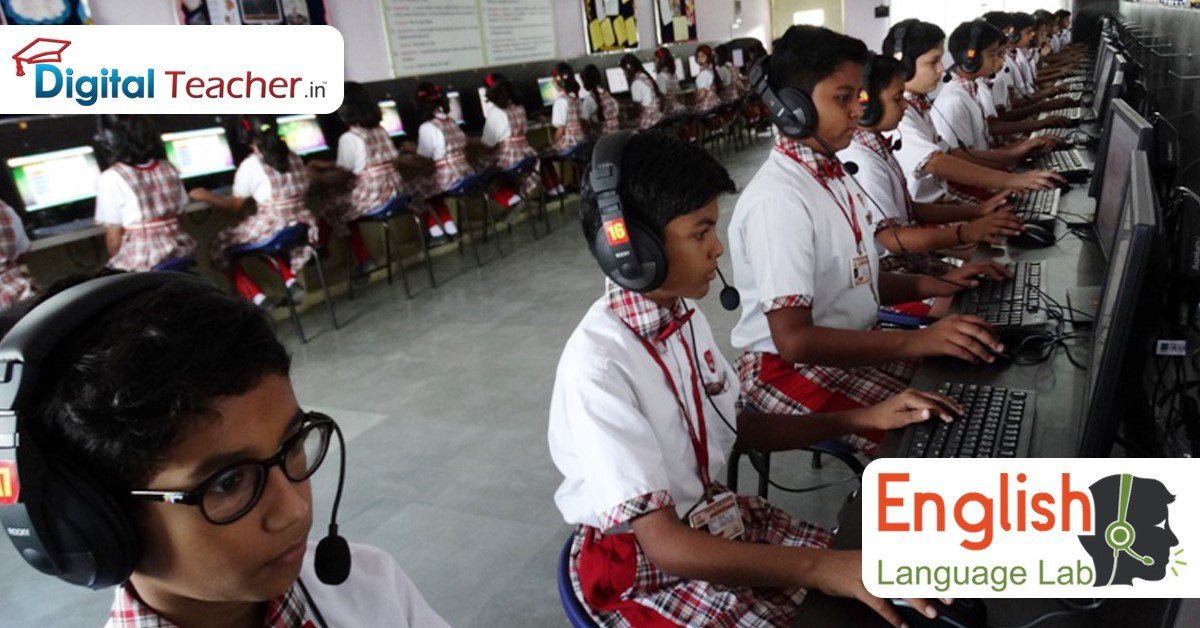 While English is being taught from 1st grade, the proficiency needs considerable improvement, especially in communicational aspects such as listening, speaking skills and phonetics.
This problem, somehow, is due to very little actual communication practice, even though the curriculum is otherwise satisfactory.
Students need intensive practice on listening and speaking skills in and out of their classrooms as well.
In this digital era, people are connected regardless of the location. Innovation in technology has certainly brought the world together. And hence, English as a language has become even more mandatory Skill for survival.
However, the thirst of imparting English language as a skill needs an innovative approach. The language lab is a technological breakthrough for imparting such skills in this domain.
Language labs can solve this problem and make English learning process highly effective, interesting and intrinsic for both teachers and students, alike.
Language lab can be an immense help for the students to learn a language of their own choice and at their own pace.
Language laboratories, of late, have become essential in developing essentials communication skills of Listening, Speaking, Reading and Writing
The study recommends that the using of language labs in the teaching of English is highly essential & beneficial right from an early age.
Digital Teacher Smart classroom content is adding value to over 7500+ Schools since its inception in 2013. Many schools have also recommended that we develop the Language Lab. And that's what helped us build on this idea.
This product is a result of an extensive research carried out by our team by collaborating with over 1500 senior English Teaching professionals and HODs of various reputed educational institutions, to better understand the current challenges & possible solutions for the same.
We have collected feedback on need of Language lab. They have expressed mainly 2 concerns. Affordability and available Labs are not designed for Indian Students.
Digital Teacher English Language Lab has been designed and developed to address these challenges by incorporating the best available content, methods and also address the other challenges like customizing to our local needs.
Our research team also realized that greater emphasis should be on Phonetics and recommended that we have separate sections on skills such as Intonation, Modulation, Syllabic division, Vocabulary, Pace of Speech, Fluency, Pronunciation and also techniques to overcome Mother Tongue Influence (MTI).
Digital Teacher English Language Lab has been conceptualized and developed as per the CEFR (Common European Framework of Reference), and Cambridge English Teaching Framework under guidance of Cambridge English Trainers.
Our effort is also to ensure that the Learners learn without any fear or any sort of embarrassment which will in turn help them build their confidence levels along with the proficiency in the language and skills to not just survive but excel in today's competitive world.
We've successfully partnered with 2500 schools already and confident of many more in the near future.