What Is Soft Skills In Digital Language Lab?
"Soft skills" is a term used by employers to describe the personality traits and interpersonal skills required of employees to succeed in almost any job. In recent years, they have become more and more important to a successful professional career and recently have become a popular talking point in the media, among employers and officials.
Types Of Soft Skills? – Digital Language Lab:
Soft skills, also called interpersonal skills, are abilities that can be useful in any job. Unlike hard skills, these skills are vague and hard to define. They're harder for you to quantify since candidates may not list them on their resumes. These skills include things like communication, motivation, teamwork, time management, work ethic, and flexibility.
Hard skills are the specific abilities that are required for a certain job. These abilities are specific and teachable, and they can be easily defined and measured. Usually, people learn hard skills at school or in their previous jobs. For example, if you're hiring for engineering roles, hard skills may include things like a professional engineer designation, experience with welding equipment, or the ability to repair equipment. Hard skills may also include proficiency in a foreign language, like French or Spanish.
Following topics are covered in Digital Language Lab Soft Skills section:
Self Skills:
3 Important Reasons to Know Self
Self Love
Independece
Clear Decision Making
Building Self Esteem
Activity – Building Self Esteem
Self Insight
Johari Window
Presentation Skills: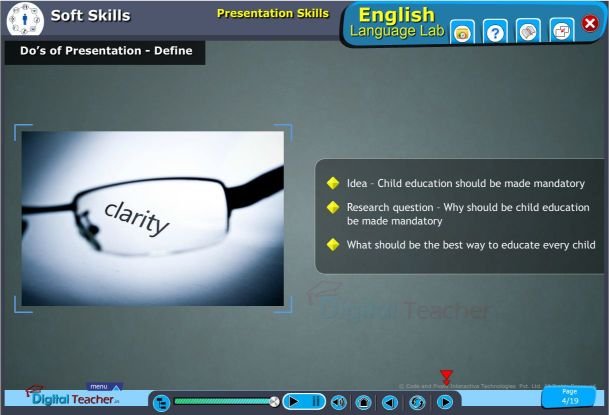 Importance of Presentation Skills
Do's of Presentation
Do's of Presentation – Define
Do's of Presentation – Kiss Your Audience
Do's of Presentation – Pace
Do's of Presentation – Body Language
Body Language Classification – Eye Contact
Body Language Classification – Posture
Body Language Classification – Head Position
Body Language Classification – Arms
Body Language Classification – Legs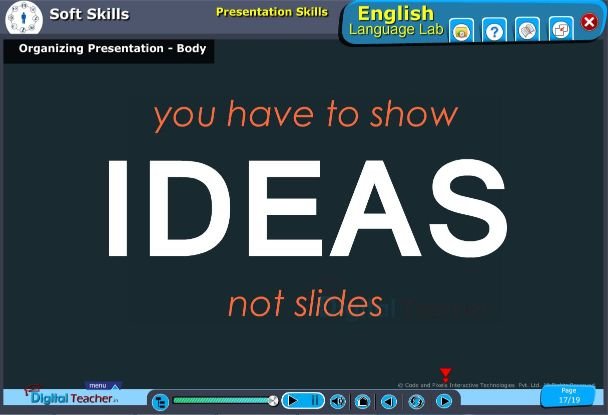 Do's of Presentation – Relevance
Don'ts of Presentation
Organizing Presentation
Introduction
Body
Conclusion
Communication Skills:
Communication Skills
Communication – Definition
Key Elements of Communication – what to Communicate
Key Elements of Communication – How to Communicate
Key Elements of Communication – what to Expect
Communication – Objectives
Communication Functions – Inform/Suggest
Activity – Holding pencil
Communication Functions – Instruct/Command
Communication Functions – Integrate
Communication Functions – Influence/Persuade
Activity-Influence – Persuade
Communication Barriers – Interpersonal
Unclear Process
Chain of Command
Activity – Chinese Whisper
Personal Limitations
COMMUNICATION barriers – Common
Human Nature
Conflicts
Power
Learn to Speak for Yourself
Ball Activity
Power of Listening
Reason for Poor Listening
Guidelines for Effective Listening
Barriers to Listening
Paper Activity
Body Language
Body Language – Points to Remember
Activity – Body Language
Remember
Group Discussion:
Tips for Group Discussion
Conclusion
Qualities Shown In Group Discussion
Interview Skills:
Resume – Purpose
Tips for RESUME Preparation
Order of Information
Tips for Effective INTERVIEW – Appearance
Tips for Effective INTERVIEW – Arrival
Sample – Self Introduction
Tips for Effective INTERVIEW – Eye Contact
Tips for effective INTERVIEW – Body Language
Tips for Effective INTERVIEW – Interest in Job
Tips for Effective INTERVIEW – Give interviewer Chance to Speak
Tips for effective INTERVIEW – General Tone
Tips for effective INTERVIEW – Closing
Tips for effective INTERVIEW – Closing
Activity – Interview Skills
What is JAM (Just a Minute) round?
Tips for cracking JAM Round
Activity – Jam
Job Specific Rounds
Job Specific Rounds
Expectation from Candidate – HR Interview
What creates Bad Impression